by Mike Campbell
Hello, fellow cross-country ski enthusiasts. Another ski season is rapidly approaching, and it's time to get excited about it.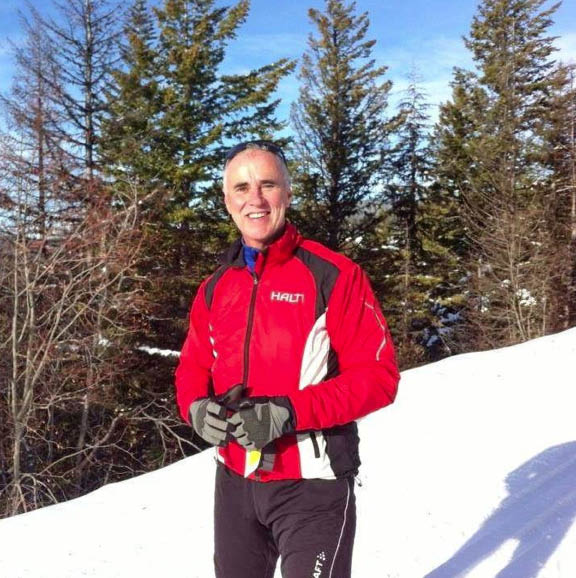 Looking ahead to this coming season, our club is in great shape. We purchased a new PistenBully groomer last year, built an addition to the groomer shed, and still had money in the bank for the upcoming season. Our membership increased by 150 members to over 900 registrants.
We ended last year on a great note at the club's Annual General Meeting where we celebrated 40 years of skiing with Bruce Ski Club. We had special guests Bruce and Marcie McGill, Harriet Nixon, and land owner Ron Gatis to share stories of the first few years of our club's existence.
We also recognized long time club volunteers Martin Kerr and Andrew Howlett with custom Bruce Ski Club jackets.
Martin has volunteered with the club over many seasons, was one of Bruce Ski Club's first presidents, and single-handedly kept the Colpoys Trails up and running. Andrew is also a long-time volunteer who has held almost every post in the club executive as well as a long time Jackrabbits volunteer and race timer coordinator.
The club also recognized the retirement of Ken Beauclerc who has volunteered with the club for many years. Ken started his volunteer work with Jackrabbits, then he coached racing and for the last ten years served as a director. Ken and his family have moved out of the area. We wish them all the best in their future endeavors. I would like to welcome Kelly Rogers as our new director.
At the Annual General Meeting there was general discussion about future projects the club could get involved with. Some ideas included expanding the lighted loop, a waxing room, flush toilets, or a Jackrabbits bumps and jumps area. If you have any ideas on future projects of the club, please email me or any of the other club executives.
This year we are offering club members the opportunity to buy a really cool custom Bruce Ski Club toque. If you are interested in purchasing a BSC toque, contact Andrew Howlett at: andrew@howlett.net. I would encourage each member to purchase a toque and fly the club colours. A small portion of each purchase will go towards club projects.
I would like to bring to the attention of club members that have kids in our great Jackrabbit program. We have a real shortage of volunteers to run the program so much so we are considering reducing our enrollment from 100 kids to 75. I would encourage parents to volunteer their time so we can give every child the opportunity to learn this great sport.
Membership fees will remain unchanged this year. The Bruce Ski Club operates the most affordable, accessible, and best maintained trails in Ontario. We accomplish this because of the strength of our volunteers. Regardless of how small or large your contribution, you make the club happen.
Special thank you to our many Sponsors and Friends who contribute to make this club affordable for everyone. Thank you to our many Patrons, especially Community Foundation Grey Bruce and Suntrail Source for Adventure. Community Foundation Grey Bruce made a very large contribution towards the purchase of the Pisten Bully Edge.
In addition to supporting the club as a Patron, Suntrail sponsors many of our events, including the Ski Swap, Men and Women on Skis, and Suntrail Special.
Lastly, I remind you that the Bruce Ski Club does not own any of the trails on which we ski. We owe a great deal to the landowners who generously allow us to ski on their property.
Dogs are not allowed on our trails. Pack out your snacks and trash. If you find trash on the trail, pack that out too. If you meet any of our land owners, please thank them personally for sharing their property.