The Sawmill Nordic Centre is located in Hepworth, Ontario. It offers both nordic skiing and snowshoeing.
The trails are cut through rolling land, sheltered by hardwood and evergreen stands. All ski trails are packed, groomed, and trackset on a regular basis. Sawmill Nordic Centre includes:
11 kilometers of cross-country ski trails, groomed for both classic and skate skiing
5 kilometers of snowshoe trails
Beginner to advanced cross-country ski trails are available, with gentle loops for beginners and challenging hills for expert skiers. All trails are clearly marked by level of difficulty — easy, moderate or difficult.
The Sawmill Nordic Centre is used by clubs and schools for cross-country ski races and practice, including classic and skate skiing. The centre also features:
Illuminated loop for cross-country skiing at night or early in the morning (The button for the lights is on the outside of the hut. Please turn them off when you leave.)
Heated ski hut that is open every day during daylight hours
Portable toilet in the parking lot
Maps and Nordic Skiing Conditions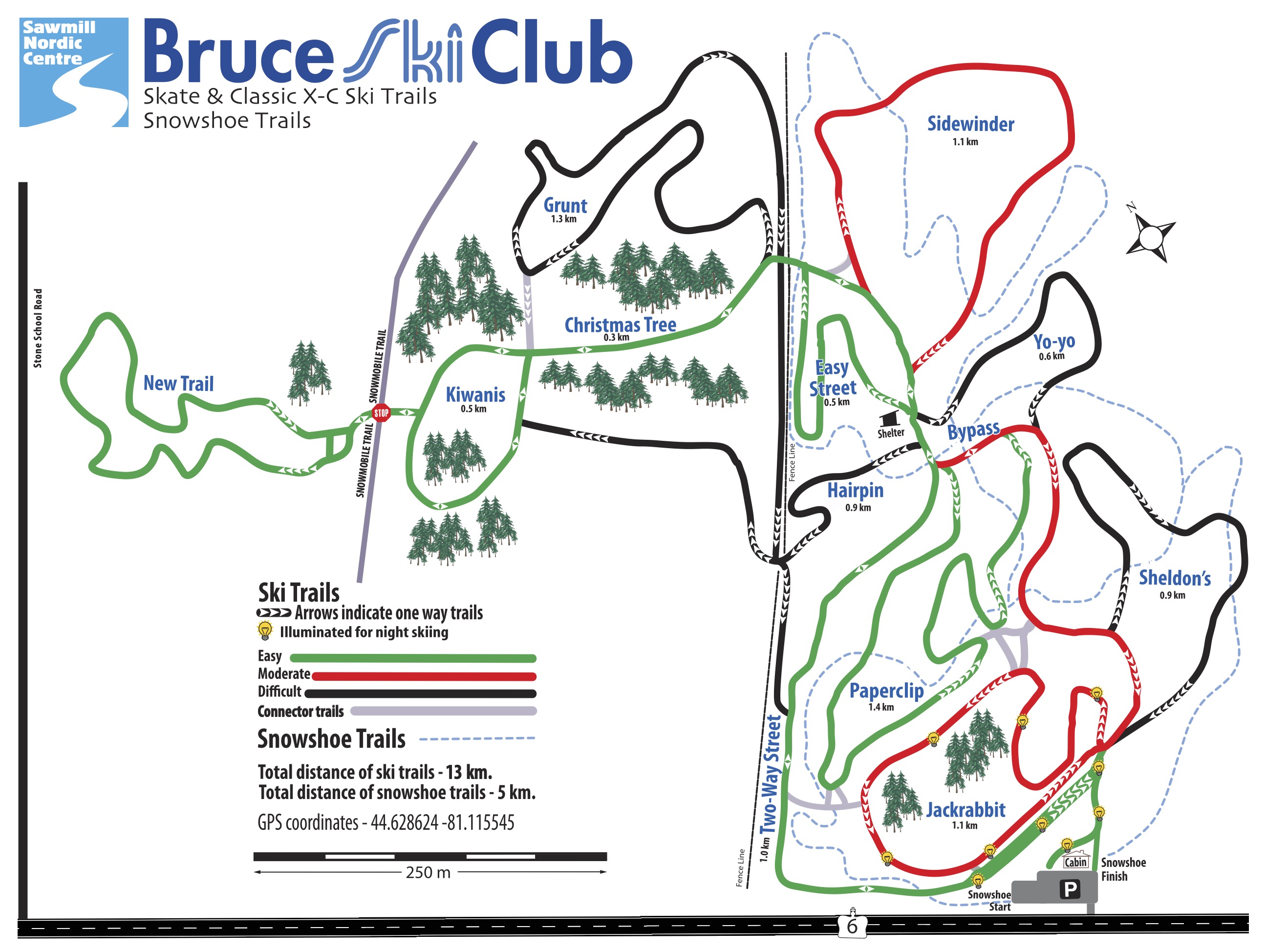 The trailhead for the Sawmill Nordic Centre is located on Highway 6 between Shallow Lake and Hepworth, Ontario (44.628624° -81.115545°).
The centre is only 1 kilometer east of Suntrail Source for Adventure, which sells and rents equipment for cross-country skiing and snowshoeing.
Trail maps are posted near the ski hut and on the trails. You can also download a printable high-resolution map for Sawmill Nordic Centre, which includes the cross-country ski and snowshoe trails.
The sandy base of the trails at the Sawmill Nordic Centre allows grooming and nordic skiing with only a few inches of snow — which means a longer ski season.
In the past eight years, Sawmill Nordic Centre has had an average of 100 days of skiing during each season. In the 2018-19 season we had 136 skiable days. In the 2013-14 season, the trails were skiable for 141 days!
Ski trail conditions for all of the club's locations are posted on the Bruce Ski Club website and Facebook page.
Accessing Sawmill Cross-Country Ski and Snowshoe Trail
Bruce Ski Club members have unlimited access to the trails at all of the club's locations. Individual and family memberships are available.
Non-members may purchase a day pass at a very reasonable rate at the Sawmill Nordic Centre ski hut or other locations.
The annual membership and day pass are valid for both nordic skiing and snowshoeing.