The Great Wolf Invitational Cross-Country Ski Race will be held:
Date: Monday 16 January 2017
Alternate Date: Tuesday 17 January 2017
Note: Formerly the West Hill Secondary School (WHSS) Invitational Cross-Country Ski Race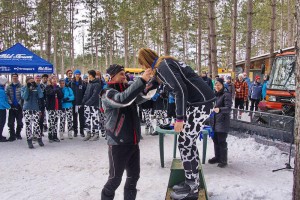 West Hill Secondary School and Bruce Ski Club invite secondary schools and senior elementary schools in south west Ontario to participate in the Great Wolf Invitational cross-country ski race at Sawmill Nordic Centre.
The goal of this event is to promote participation in cross-country skiing, camaraderie and the pursuit of excellence among high school students.
Please register for the Great Wolf Invitational ski race on Zone4.
2017 Great Wolf Invitational results.
Location
Sawmill Nordic Centre, Hwy #6, Hepworth (1 km south east of Suntrail Outfitters)
West Hill Invitational Maps
Click on the small maps to download the higher resolution versions.