by Tom Hakala
Well, I'm glad that's over… I'm referring to that long hot, humid, sweaty, exhausting, wet and wild summer. I don't take the heat well, especially when it is 31ºC while watching fireworks on July 1st at 11:00 at night. I'm looking forward to the polar opposite of that oppressive heat…The World Snow Day on January 20th.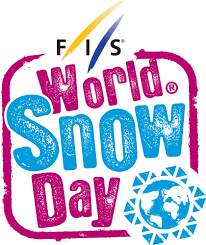 Thanks to Marilyn Suke for enlightening me about this event. It has actually been around since 2007 when the FIS (World Ski Federation) introduced the campaign to encourage children to take part in snow sports. The campaign has grown every year since to the point where massive skiing and other snow events are taking place on that day.
So, I thought it would be fitting that our club get involved. I am proposing that we create our own event for World Snow Day. On Sunday, January 20th, 2019, bring your family out to Sawmill Nordic Centre to ski or snowshoe.
To make it even more fun, bring your neighbour or friend that isn't a Bruce Ski Club member to try out our trails. We are all children at heart, so this is open to children of all ages.
Let's see how many we can get on the trails on January 20th!