by Martin Kerr & Tom Hakala
The Colpoy's Story
A couple of weeks ago I met a couple from Niagara Falls in the parking lot of the Sawmill Nordic Centre. I was just leaving and they were just arriving for a first time ever ski. The excited pair had rented some skis and were getting ready to give it a whirl.
"Does this trail have those groove thingees already in the snow", the gentleman inquired? I assured him that yes indeed there were groove thingees all around the trail system and in some places there were even two sets of thingees so that you could chat with your pals as you wound your way through this nordic nirvana. This news pleased the Niagara Fallers greatly, and with large grins, off they went. I'll bet they'll be back!
We are so fortunate to have such an awesome team of groomers in the Bruce Ski Club, and thanks to the membership we now have an amazing marvel of snow shaping technology, the PistenBully that can groom a 16-foot wide trail in one pass leaving perfect classic tracks on either side and a skate lane up the middle. It doesn't get much better!
Anyway back to the groove thingees. Here is what we use at the Colpoy's ski trail, the Sawmill trail also does snowmobile grooming with similar but slightly larger and more complex equipment.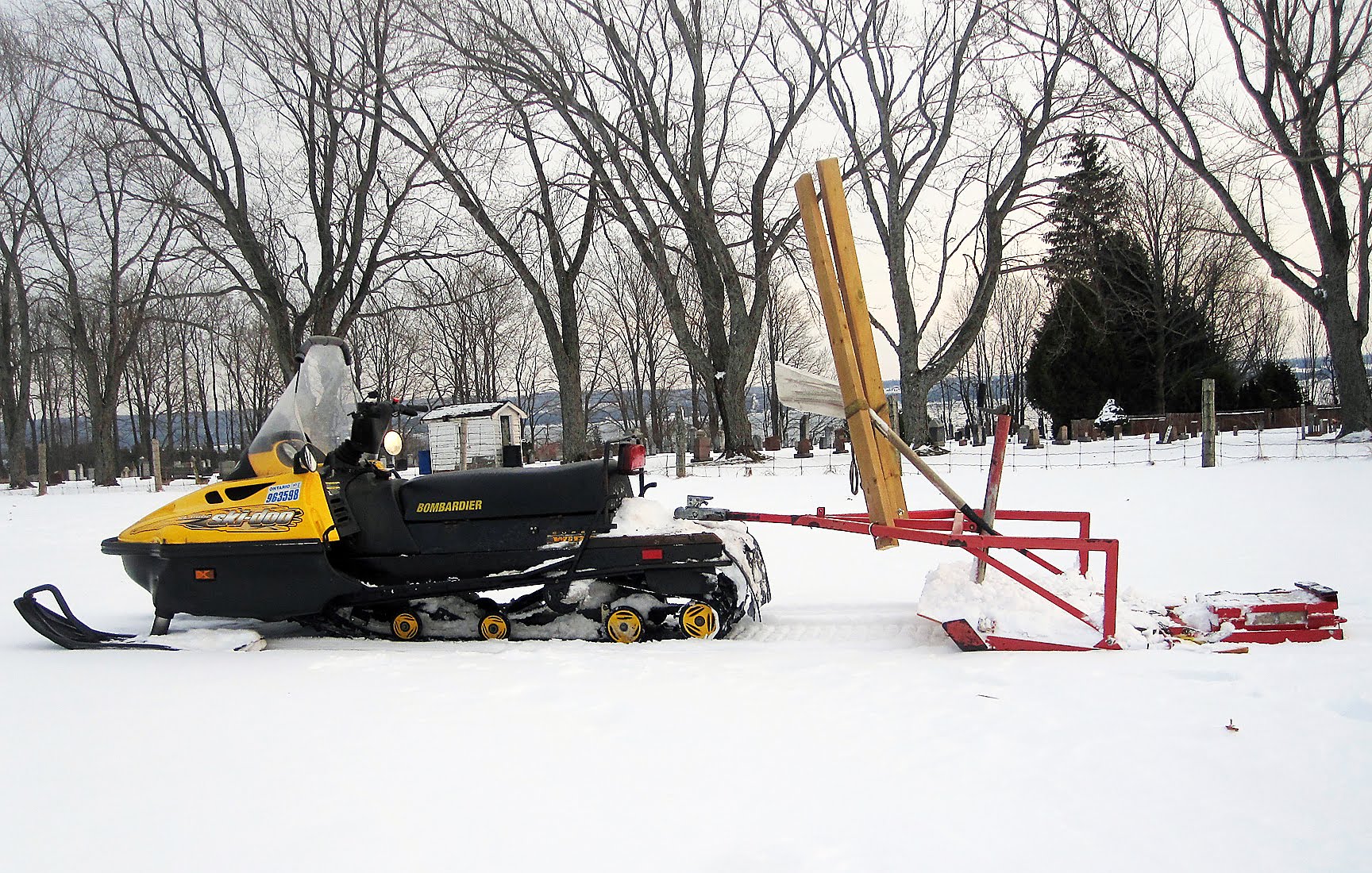 The snowmobile is a 2005 Ski-Doo Skandic. It has an extra wide and long track to give it more flotation in deep snow and it almost never gets stuck. It has very low gearing so that it can be driven at a low speed (usually under 10 kmh) while pulling a heavy piece of grooming equipment, often under challenging conditions. It is a good machine and a new one cost about 15 thousand dollars.
The Skandic pulls a groomer that has a track-setter attached to it. The Colpoy's trail uses an American made Tidd-tech trail tenderizer that is 4-feet wide and has a weighted track-setter that is joined to it at the back. The track-setter can be lifted up in case there is a place where no track is needed. A basic unit like this is worth about four thousand dollars and this one is about 10 years old.
A typical grooming session at Colpoy's takes about two hours and occasionally longer if there is a large snowfall that must be packed down with the Skandic first. All of this gear combined weighs about a thousand pounds and the ski-doo will use about 20 litres of fuel pulling it around for those two hours.
When I first started skiing, a groomed trail meant that someone had skied there before you did. I think that we've come a long way. Long live the groove thingees!
P.S. The guy driving the Skandic is 62 years old, weighs 140 lbs. and usually eats all of the cookies in the house after those two hours.
PistenBully Edge – The Inside Story
Like a 10-year-old, I'm fascinated with any kind of big machine; so when I had the opportunity to ride in the new PistenBully Edge with Fred Scheel, I was thrilled.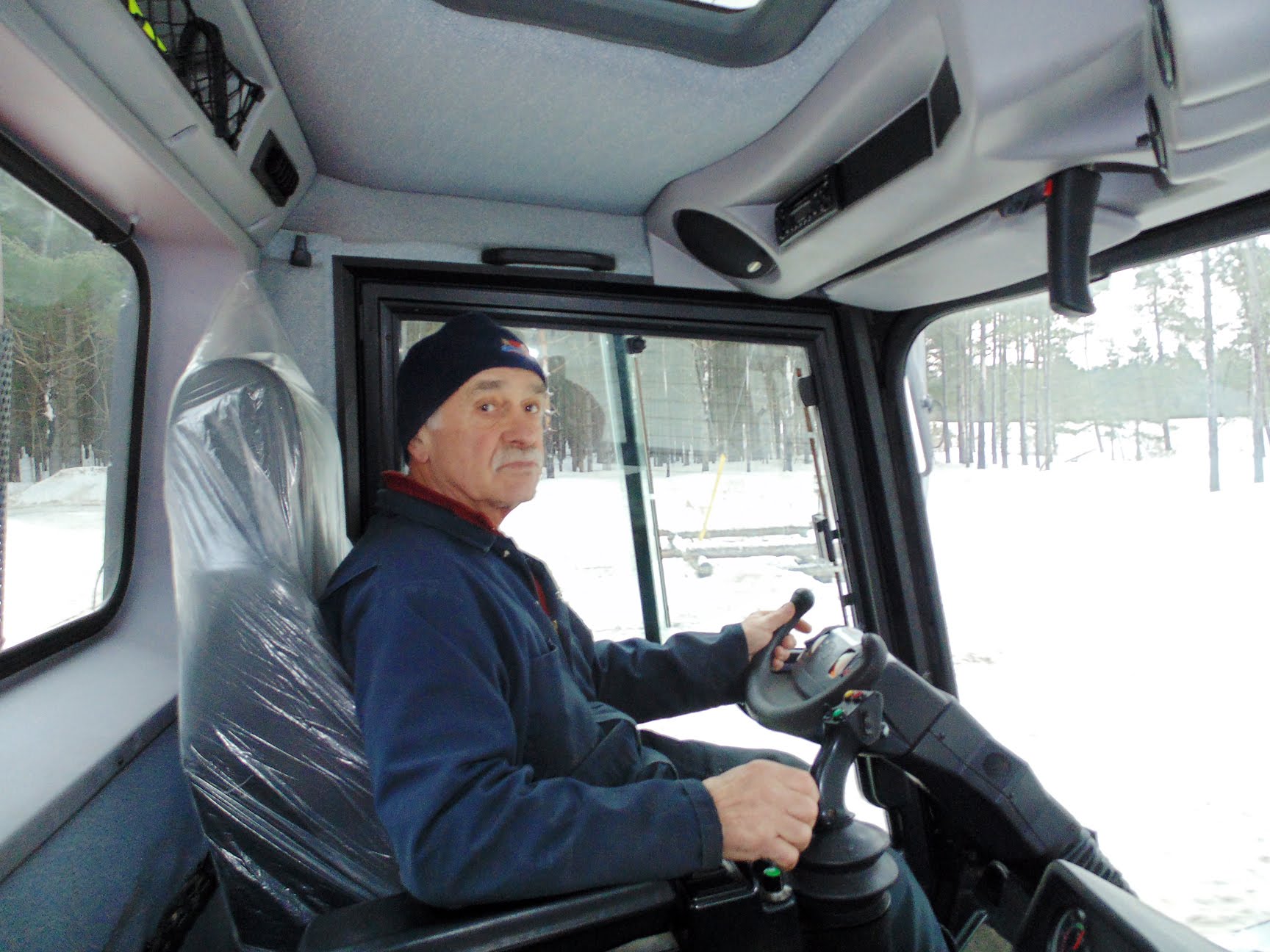 I met Fred early on a Saturday morning at Sawmill Nordic Centre before Jackrabbits. The Edge was already idling in the shed patiently waiting for the morning run. Fred was tinkering with whatever Fred tinkers with before he starts grooming. He showed me where to step to get up and in (it is quite high off the ground).
I pulled on the door to open it to no avail… It is a heavy sucker. Fred hopped in the driver's seat explained a few things and revved her up for take off. I didn't realize just how loud it is, but with over 300 horses right behind the seats you get the feeling you are in a jet ready for flight.
The other thing about riding in the big groomer is that it is like sitting in one of those vibrating recliners. Fred explained that there is a tremendous amount of drag created from the tiller in the back as it chops up snow and ice when the big machine pulls it along the trail. Consequently many of my photos look like I had three martinis before I climbed onboard.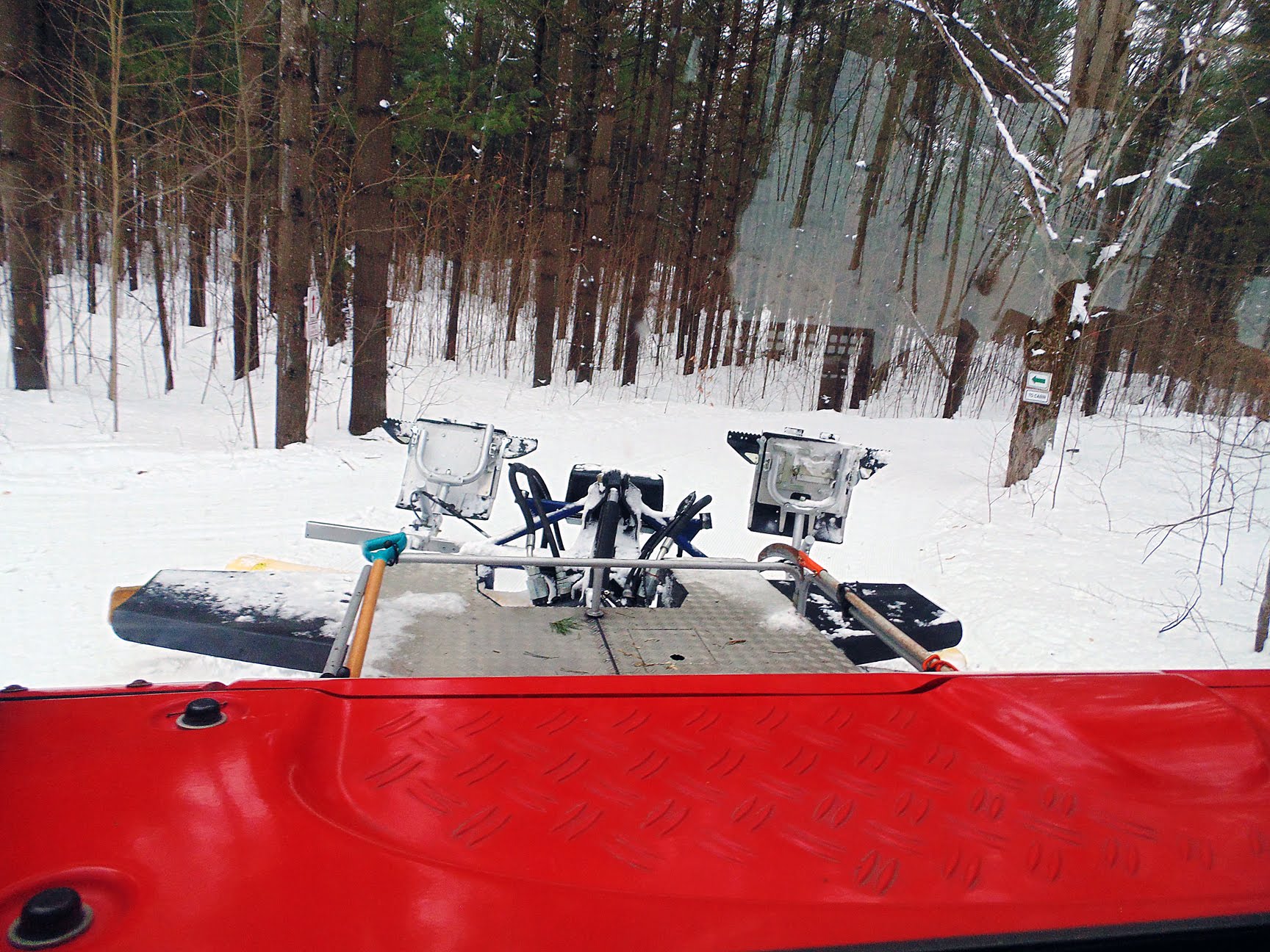 Fred also explained that this new PistenBully does a lot more to fine tune trail grooming. For instance, the tiller is articulated so it follows the curve of a trail around bends and tight corners. It has 8 leveling adjustments allowing the operator to finesse the tiller just at snow level or deep into the base.
The plow on the front can be tilted and turned in an infinite number of directions. Of course all this high tech equipment comes with a learning curve that each operator will have to learn as they groom. On top of that, the new machine is wider then the original one so there are a few really tight spots where each side of the tiller are centimetres from trees or other obstacles. This will require some trail repositioning in the off season.
At this time most of our grooming crew have been given the operator training and Fred is confident that they can operate the Edge without any problems. I can tell he is very proud of the grooming crew and how they are able to work with the new equipment in such a professional way.
As we cruised along the Sidewinder trail I looked behind to see a perfect set of tracks on one side and soft corduroy everywhere else. There are track-setters on either side of the tiller, enabling the operator to lay classic tracks on the left, right or both at the same time. The tiller can crunch up ice if needed, but Fred warned that over grooming the trails can result in a loss of precious snow when snow levels are low.
During the warm January thaws that we experienced this season, the crew elected to stay off the trails for a few days until new snow arrived. With careful grooming, we were able to stay open throughout the warm spells. We are very lucky to not only have the most up to date grooming technology at our trails, but experienced crews at both trail systems to keep them in top condition all season.