Ski Race Coordinator 2016 Summary by Ruth Scheel
This season the four different nordic events that we hosted relied on a large group of volunteers. I would like to take this opportunity to thank them and inform the members at large as to the huge number of people who contributed to the success of this Bruce Ski Club Race Season.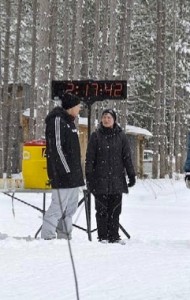 Convenors: set dates, outline the venue and organize the volunteers. Aimee Vereecke, Ruth Scheel
Race Secretary – sets up the online registrations, creates start lists, results, and runs of office during races. Andrew Howlett, Fred Schlenker, Erin Scheel, Jean Campbell, Reed Bell
Bib Control – distributes bibs and information prior to race and collects and accounts for bibs after the event. Barb Gray, Kathleen Cassidy, Suzanne Farla, Colleen Purdon, Ruth Ann English, Rhiannon Lewis, Rebekah Lawrence
Chief of Course – sets the course markers and supervises the Course Marshals. Fred Scheel, Harry Hong
Course Marshals – monitor racers on course, reset barriers as needed and report any racer irregularities. Lynda Matthies, Colleen Purdon, Norm Bell, Ross Thompson, Gwen Bell, Claudia Solinger, Tim Smith, Ken Beauclerc, John Cameron, Brian Wall, Harry Hong, Doug Crane, Mike Campbell, Neil Sim
Start Crew – consists of a starter, assistant starter, time controllers, and marshals who get racers to the start line. Dan Purdon, Marilyn Suke, Betty Tuinema, Kelly Rogers, Jackie Mersich, Mike Rutherford, Suzanne Rutherford, Colleen Purdon, Ann West, Heidi Tones
Chief Timer – supervises the finish line crew and communicates with the race of office. Ken Clarke
Finish Line Crew – record finish times and bib numbers as racers cross the finish line – electronically and manually. Bill Haley, Norm Bell, Lloyd Lewis, Mike Edney, Ross Thompson, Paul Matthies, Marj Thompson, Tim Smith, Brian Wall, Mike Rutherford, Kari Shuf ebotham, Sean Currie, Sonya Mount, Bill Courage, Ken Beauclerc, Bill Moriarty, Kristine Lawrence, Jackie Mersich, Sandy Stevenson
Lap Monitors – during races that run over several laps of a course or are longer in duration they record bib numbers and offer beverages, and in some cases, food to the racers. Lloyd Lewis, Bill Moriarty, Colleen Purdon, Marilyn Suke, Gwen Bell, Sandra Hong
Public Address – Announces start times and relays information during race duration. Sandy Stevenson
Each ski race requires between 28 and 32 volunteers. This does not include the food booth volunteers who run a food service during races.
I would also like to thank Mayda Reid for decorating the Cookie Awards for the Suntrail Special. It takes a village to raise a child and it takes club volunteers to run a ski race.