by Mike Campbell
Greetings from the President's office. Didn't that last taste of winter only add to the anticipation of the start of ski season? I think everyone is looking forward to getting into some outdoor activity during this difficult time.
Your Executive has been working on a COVID-19 strategy to keep everyone safe on the trails. [See the COVID-19 info on our home page.]
We are also expecting the trails to be busy this year.  Last year we had 915 members, this year we are already up to 993 and counting. Our biggest limiting factor is the size of our parking lots at both trails, especially on weekends. We are encouraging club members to ski early in the morning or later in the afternoon so that you are guaranteed a parking spot. If the parking lots reach capacity on a regular basis, we may have to limit access to the trail to members only.
When out on the trail please observe social distancing, keep your masks on in the parking lot and start areas, come ready to ski (Gerry's Place warm-up hut will be closed). Do not hang around socializing, ski and head home. I know this is going to be hard for folks, but we want to keep everyone safe and our trails open. So let's be thankful that we have great trails and a great skiing community.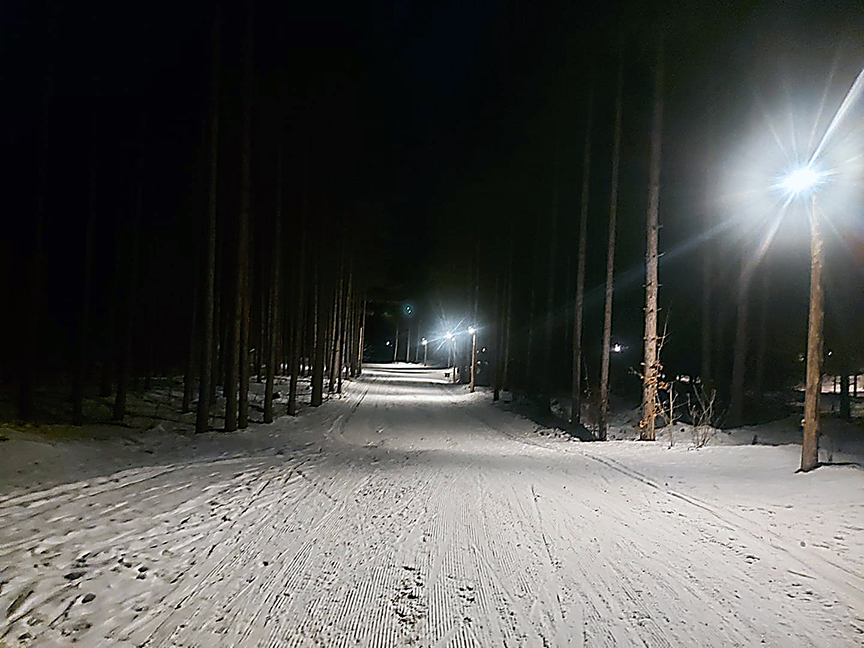 Our volunteers have been working hard at it getting everything ready. A lot of work happens behind the scenes that many club members may not be aware of. This includes, but is not limited to, trails being cleared of debris, bulldozer work, weeds mowed down, signs put up, lights for the night loop tested, equipment serviced and maintained, volunteers tasks organized, membership registrations are compiled and funds are collected, jackrabbit coaches lined up, trained and lessons planned, newsletters put together and distributed and website and Facebook pages updated. That's a lot of work!!!
We could not do it without all the great volunteers that help out with every aspect of running our great club. I would like to thank all our volunteers and trail captains for all the work they do for the club. If you meet a volunteer out on the trail thank them for all their work. If you wish to help out please let us know. We are always looking for help. No contribution is too small.  Email me at: mike@bruceskiclub.ca.
By now most of our club members have purchased their memberships through Zone4.ca. If you have not yet registered, I would encourage you to do so. Once you have purchased your membership you can pick up your sticker or your membership key-fob at Suntrail Source for Adventure in Hepworth. Please support this business that helps our club out with registration.
I would like to remind club members to wear their membership tags when on the trails. Please keep in mind that much of the land our ski trails are situated on are privately owned, and we are guests of the land owners. Without the generosity of these owners we would not have the great trail systems we enjoy today. Please stay on the trails and leave no trace.