by Laura Robinson
In March of 1980 I was riding my bike through Hepworth. It's chilly enough in that month but Hepworth felt even colder. As I rode towards Shallow Lake I noticed great amounts of snow in Whispering Pines. Hmm. That summer my dog Track and I ran through the campground, and found ourselves on the trails that we now call Christmas Tree Run. The trees whispered, "Keep going. We've been waiting for you."
If you look to your left when you finish Kiwanis, you see the snowshoe trail. That was the original Grunt. Track and I ran along the ridge at the top of Grunt. We came down through the area now on the left as you fly down Freefall, and followed that ridge again until we were at the top of Cardiac Climb. Look left while skiing Sidewinder and there's the ridge.
We came down that ridge, bisecting the bottom of Yo-Yo and back up on an even steeper angle than Yo-Yo now has—which works fine if it's July and you're wearing running shoes, but was a bit of a stomach flipper on the old skinny classic skis. Track and I came out somewhere in the GSCA forest—which was a lot newer then, and found natural pathways back to the campground. The area is the old shoreline of Lake Huron. We are blessed with early and late skiing because the surface is sand and pine needles. It needs little snow to start and keeps what it has longer.
I was living one of my past lives and had just opened Ski Haus in Hepworth. As a teenager I taught skiing at Earl Bales Park in Toronto and Torre Magaard, the Norwegian who had the pro shop, sent a pile of beautiful Birkebeiner skis, Alfa 3-pin 75 mm boots, Rottefella bindings and wax to sell, originally, at my mother's café south of Wiarton.
Wooden skis were still what most people used, skate skiing was a technique a brash American named Billy Koch experimented with, while Toller Cranston changed figure skating forever with his flawless skate to the opera Pagliacci.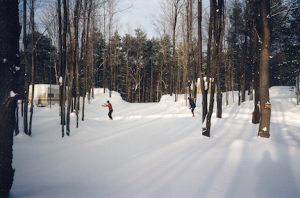 If I skied those trails long enough, I dreamed I was Toller, flying through the forest. Neil Young sang about the Riverboat rocking in the rain, campuses were awash with protest, and Toller and Billy made me think anything was possible. Could world peace be far behind? Off I went with the energy of a religious zealot, marking routes with paint I found in the basement of the Ski Haus.
The paint went in my knapsack, the paint brush in the pocket of an old jacket. My three brothers helped mark and clear trails and assigned trail ranking: Expert trails were red for blood, long trails were blue for frozen, and yellow, they decided, was for chicken. Typical teenage boys who also transformed Red Klister to Rudy Kliister–a mystical Norwegian who only skied our trails on warm days, while Polar Wax was Polvaar Vax, a Finn, last seen when temperatures went below -15 Celsius.
One of the original trails diagonally crossed the field that is now a golf course as you head north on Hwy 6, crossing Stone School Road near the dump, and meeting what is now Kiwanis Loop. I could nearly ski out my back door.
My brother Greg and I started the Jackrabbit program in an unheated tiny trailer in Whispering Pines around 1981. I've watched the kids grow to high school and university teams. Some have their children in Jackrabbit now. I remember once heading into the woods with 15 kids and coming out with 14. One of us went off on the first of several missions the Bruce Ski Club has had to retrieve children—most of whom have simply escaped into a time and place in the woods where there is no madness and destruction—just magic.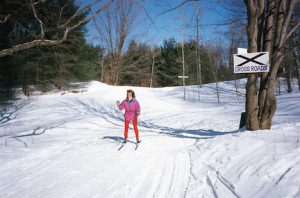 Much has changed, especially with skating firmly entrenched in the sport and kids can go faster than ever–it's all wonderful, mainly thanks to the many volunteers, like Fred and Ruth Scheel, who have for years, ensured great trails and exciting events at Sawmill, along with Reg Martin and Pam Green, who are skiing in the west now.
Parking on the highway by the main entrance to Whispering Pines was dangerous, thus the club and GSCA created the parking lot. The Van Dorp family, who have given endlessly to the club, and supplied great racers too, tragically lost their son Jerry while he was camping. He is there each time we open the doors of Jerry's Place—and the love so many had for him is felt in that cabin.
Ed and Margaret de Laplante also committed decades to our club. I remember the day Ed first saw Margaret—he was smitten. We lost Margaret to cancer, but she still lives on our trails, sheltering skiers and providing refuge when we meet at Crossroads. Naivety is history this winter as a geopolitical landscape created by madness grips the world. Have we time traveled to Berlin in 1933? Put those thoughts on hold.
There are 99 little Jackrabbits this year on our beloved trails, and hundreds of children skiing with schools and families. There is nothing more delightful than meeting them on a snowy day. They balance the fear of going down Freefall with the exhilaration of the wind on their face and the snow beneath them magically allowing them to fly while staying upright.
The trees whisper—come into the woods, all is good here.